1890's – In the latter 19th Century and until the 1940s, St. Ann's was served by Missionary, Oblate, and Redemptorist priests. In the later 1890's there was a need for a Church Building, thus the first St. Ann's Church was built on Front Street where Tim Horton's sits today. The first St. Ann's was a very small building. When the church population increased the Old Rex Theatre was used for Mass. The first St. Ann's served the congregation for approximately 62 years.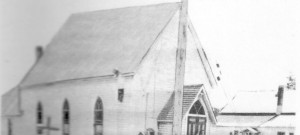 1955-1956 – In 1955 as the congregation continued to grow, a new church was in the planning stages. In 1956, St. Ann's Parish in Quesnel officially became part of the Kamloops Diocese.
1959 – The first sod was turned on June 15, 1959, and construction began with parishioners pledging labour, materials, and money. Not only did St. Ann's Parishioners work on the new St. Ann's, but many townspeople also volunteered materials and labour.
1961 – May 31, 1961 the Official Blassing of the new, larger St. Ann's Church took place. Bishop Harrington from the Kamloops diocese was assisted by Monsignor John Miles who arrived to bless the new church building and to celebrate Mass for the first time. The parish continued to grow doubling in size by 1966. Because of this growth, Father Jerry Desmond arrived in 1966 to assist Father John Sheffield.
1968 – On August 15th approximately 300 parishioners and townspeople attended the opening of St. Ann's Hall. The hall was officially dedicated by Father John Sheffield. Jim Girvin acted as Master of Ceremonies.
1981 – On May 24th, St. Ann's parishioners celebrated 25 years as a Parish in the Kamloops Diocese.
1985 – In 1985 the lower hall was converted to three classrooms in anticipation of the opening of St. Ann's School in 1986. One new grade a year was added, necessitating the purchase of a portable classroom to take the additional students.
1993 – It was a sad day when the last of the Sisters of Notre Dame left St. Ann's Parish. The parishioners quickly took up responsibility for the duties that the Sisters performed. We now have many active organizations within our parish.
1998 – St. Ann's Catholic School moved from the lower hall into the new school building in September 1998. The attached portable is now operating as a separate Play School.
2000-2006 – On October 2005, St. Ann's parishioners celebrated the 50th anniversary of St. Ann's formal designation as a Parish. We can be proud of our Church's heritage and the continual growth through the years. This growth has come from you the parishioners of St. Ann's Church.
Pastors
---
1955-1959 – Fr. Michael Murtagh
1960-1974 – Fr. John Sheffield
1974-1982 – Monsignor John MacIntyre
1983-1989 – Fr. Barry Desmond
1989-1989 – Fr. Anthony Vella O.P.
1989-1991 – Fr. Rathnam Raja
1991-1993 – Fr. Pepe Garcia Jr.
1994-1996 – Fr. Fred Weisbeck
1993-1994; 1996-1998 – Fr. Joseph Wang S.J.
1999-2005 – Fr. Malcolm DeWeese Jr.
2005-2010 – Fr. Dale Normandeau
2010-2014 – Fr. Martin Peyton
2014-current – Fr. Peter Nguyen