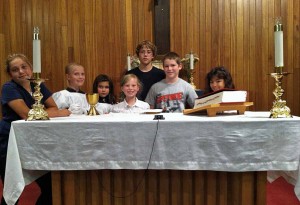 This is a ministry, like all ministries in our Church, that will be scheduled on a rotating basis on Sundays. Therefore, parent(s) are required to make a commitment to make sure their child is at the Church when scheduled or a replacement found if unable to make that time. So, if your son/daughter has indicated that he/she wants to be trained as an Altar Server for our Parish Masses then please download our Altar Server Permission form, print, sign, return to your Teacher, School or Parish office.
---
If you're already an Altar Server and you want to brush up on the procedures during Mass, download our instructions.

Altar Server Instructions (229.0 KB)
For more information about our Altar Server program, please contact Shannon Moleski.