---
Knights of Columbus

Thanks to the efforts of Father Michael J. McGivney, assistant pastor of St. Mary's Church in New Haven and some of his parishioners, the Connecticut state legislature on March 29, 1882, officially chartered the Knights of Columbus as a fraternal benefit society. The Order is still true to its founding principles of charity, unity and fraternity.
The Knights was formed to render financial aid to members and their families. Mutual aid and assistance are offered to sick, disabled and needy members and their families. Social and intellectual fellowship is promoted among members and their families through educational, charitable, religious, social welfare, war relief and public relief works.
If you're interested in more information about the Knights of Columbus, visit the web site at www.kofc.org or contact our Grand Knight, Dan Canuel, in our parish.
The KC General Meeting is on the 2nd Monday of the month at 7:00 pm in the K of C Room. Would love to see all our Brother Knights there.
---
Catholic Women's League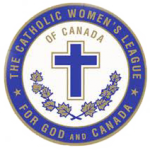 The Catholic Women's League of Canada is a national organization rooted in gospel values calling its members to holiness through service to the people of God.
The Catholic Women's League of Canada was organized nationally on June 17, 1920 and granted federal incorporation on December 12, 1923.
The League is officially recognized by the Canadian Conference of Catholic Bishops (CCCB) as a lay association of women and is affiliated with the World Union of Catholic Women's Organizations (WUCWO), a world-wide federation holding membership in the conference of International Catholic Organizations (ICO) and having consultative status with agencies of the United Nations.
If you would like more information about the CWL, visit the web site at cwl.ca.
CWL meetings are at 12:00 noon, so remember to bring a bag lunch. Our Executive Meeting is on the 1st Tuesday of the month and our General Meeting is on the 2nd Wednesday of the month. We do not hold meeting during the summer. (July & August)
---
Legion of Mary
---
Finance Committee
The Finance Committee meets on the 4th Wednesday of the month at 7:00 pm in the Religious Education Room.
---
School Council
Meets each month in the school library.